Powerful and all-around battery powered electric wheelbarrow:
it's Mulo
Mulo is a reliable and heavy-duty electric wheelbarrow. From gardening to construction, Mulo will be ready to do the heavy work for you.
Mulo is silent and respectful of the environment, perfect for thcarrying materials in the historic city centers and areas restricted to traffic.
Whether it's on sand or on a paved street, Mulo can follow you on all ground. Its traction is designed to face uphill and downhill gradients of up to 12%, fully loaded and in complete safety.
Thanks to the ergonomic controls on the handle, you can load its container with up to 250 kg with ease. The safety equipment also guarantees complete machine reliability, so that you can concentrate only on the work to be done.
Discover Mulo, the new generation electric wheelbarrow!
More info about the line il Mulo
Professional electric wheelbarrow for gardening and construction
Mulo is the result of more than 50 years of experience in the design and construction of vehicles of all kinds. An experience that we translated into technical and ergonomic solutions that give this electric wheelbarrow its extraordinary qualities.
Lightness is one of them: we have chosen to use the wheels instead of the tracks to make the wheelbarrow lighter and more versatile. The use of light materials such as aluminum also allows us to save on weight to concentrate all the power on the transportation of materials.
The guiding system has the controls on the handle making the wheelbarrow extremely wieldy, even when fully loaded. You just have to decide the direction and pace: its traction will do all the heavy work.
Thanks to the large and capacious tipper, the Mulo electric wheelbarrow can transport loose or bulky materials of all kinds. The removable sides also allow you to transform the body into a comfortable platform and facilitate the loading and unloading of wheelbarrow.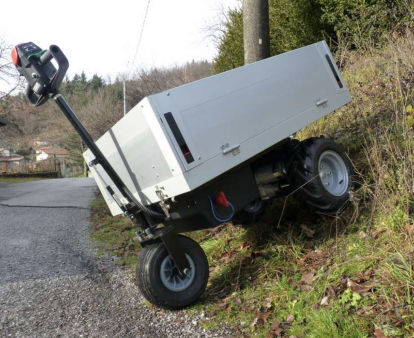 Details
All terrain wheels to go everywhere
Ergonomic and easy to use guiding system placed in the handle
Safety measures for complete operational security
Complete Features
Safety measures for complete operational security
An electric wheelbarrow must your working companion. This is why we have equipped Mulo with 2 powerful and reliable traction batteries that will give you up to 8 hours of power: enough to complete your daily chores.
When it comes to moving heavy loads, Mulo fears no rivals. Its batteries power a traction capable of tackling slopes of up to 12% at full load.
Once the job is done, the Mulo wheelbarrow can be recharged in a few hours: put it in charge in the evening and in the morning it will be ready for a new day of tireless work by your side.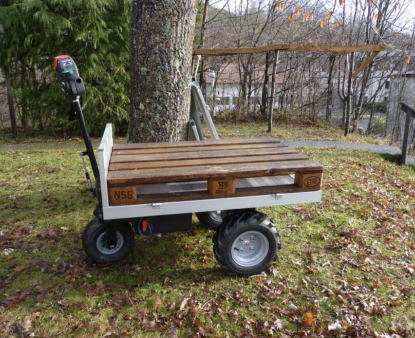 Details
Charging time maximum 8 hours
Up to 8 hours of power
Efficient and robust heavy duty batteries
Complete Features
A wheelbarrow that follows you everywhere
An electric wheelbarrow must be able to go on all terrains. Construction sites, gardens, countryside or cities: whatever your use the Mulo wheelbarrow will always be ready to come.
Its knobby wheels are designed to offer lightness and versatility. Thanks to them, Mulo can go on the paved ground of an historical urban center as on the rough ground of a construction site.
In addition, its silent electric drive makes Mule discreet and respectful of the environment, a workhorse for natural parks, residential areas and pedestrian areas where noise pollution must be avoided.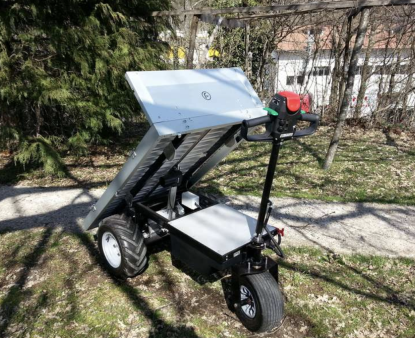 Details
Quiet and environmentally friendly engine
All terrain wheels
Versatility of use
Complete Features
Let's get in touch.
Do you need a quote or a consultation? Our staff would be glad to help you. Send us your request, a member of our staff will contact you in a few hours.
Electric wheelbarrow: price and information Do you want to know the price of the Mulo electric wheelbarrow? Do you want more information for a particular use? Write us: we will contact you within one business day